Evènements
FERMETURE DE LA BOUTIQUE PHYSIQUE !
SOUFFLE CONTINU est fermé au public jusqu'à nouvel ordre pendant la période de confinement.
Nous restons opérationnels sous forme de "Click & Collect".
Pour ce faire, rendez-vous simplement sur le site www.soufflecontinu.com
Faites vous plaisir et sélectionnez "retrait sur place" au moment de la validation / checkout.

Nous assurons une permanence du lundi au samedi de 14h à 18h pour le retrait des commandes sur le pas de la porte.

Pour ceux qui ne pourraient se déplacer sur ces horaires, n'hésitez pas à nous [...]


La Boutique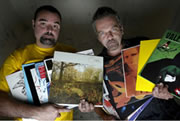 20-22 rue Gerbier
75011 Paris
M° Philippe Auguste
M° Voltaire

Restez informés !

Souffle Continu

Commentaires :


- Commentaire de : Stembogen (2012-05-18)
king gong - xinjiang remix
Le Xinjiang («nouvelle frontière» en chinois) est le territoire de Chine le plus à l'Ouest. Cette région, appelée également Turkestan oriental, s'étire de la Mongolie au Pakistan. Les enregistrements de Xinjiang Remix ont tous été réalisés dans la Préfecture d'Ili (zone dite autonome kazakhe).

- Commentaire de : Stembogen (2012-05-18)
king gong - xinjiang remix
The Xinjiang region («new frontier» in Chinese) is the most western territory in China. This region, also called East Turkestan, stretches from Mongolia to Pakistan. The Xinjiang Remix's recordings were made in the Ili's Prefecture (so-called Kazakh autonomous zone).
Sur le même Label

Genre similaire