Evènements
Vendredi 16 octobre 2020 - 19h30
Jazz & Musiques Libres à Berthelot #4
Sylvain KASSAP + Benjamin DUBOC DUO.

ENTRE LES TERRES - CORNELOUP/MOLARD QUARTET

Jacky MOLARD - François CORNELOUP - Catherine DELAUNAY – Vincent COURTOIS.

PAUL WACRENIER HEALING UNIT invite MICHEL EDELIN

Paul WACRENIER - Xavier BORNENS - Arnaud SACASE - Blaise CHEVALIER - Benoist RAFFIN + invité Michel EDELIN.

Théâtre Municipal Berthelot Jean-Guerrin
06, Rue Marcelin Berthelot - 93100 Montreuil
Métro : Croix de Chavaux
Tel : 01 71 89 26 70 - resa.berthelot@montreuil [...]


La Boutique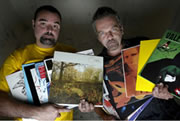 20-22 rue Gerbier
75011 Paris
M° Philippe Auguste
M° Voltaire

Restez informés !

Souffle Continu

Commentaires :


- Commentaire de : soufflecontinu (2010-09-16)
carlos giffoni and hivemind -
"lthough it's better than prison, it still isn't easy to live with two guys wearing an ankle bracelet, in the smallest possible wooden cabin somewhere in between New York and Detroit. There's no food anymore, tap water is not drinkable, and eating each other's intestines seems to be the last enjoyable possibilty. The thick dense sound of synth throbbing bubbles up from these hungry bowels. 2 synths fighting their ways to better times, though right now everything looks pretty dark, gnarly and industrial, classic heavy synth waves, rhythmic madness and electronic sadness. Comes in a collage sleeve by Dennis Tyfus, limited to 300 copies."
Sur le même Label

Genre similaire