La Boutique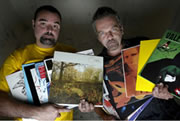 20-22 rue Gerbier
75011 Paris
M° Philippe Auguste
M° Voltaire

Restez informés !

Souffle Continu

Commentaires :


- Commentaire de : tuttle (2014-12-14)
urbain autopsy - 1984 - 1987
URBAIN AUTOPSY was a Paris based band who released over 80 tracks on self produced tapes between 1984 and 1987. Drawing their influences from Suicide, The Residents, Throbbing Gristle to Joy Division or Bauhaus to name a few, they had their own way of combining power electronics, industrial, experimental, cold wave, post punk... This LP contains 12 tracks emblematic of their short "career" and comes with an 8 page biography. Pressing quantity is 200. All sleeves are handmade. There are many different artworks (some of them unique), different letterings, etc.
Sur le même Label

Genre similaire