Evènements
HORAIRES D'ETE
du MARDI au SAMEDI
(11h00 – 19h00)

Fermé le 14 Juillet & 15 Août

SCHEDULES SUMMER
IN JULY AND AUGUST
TUESDAY to SATURDAY
(11:00 am - 7:00 pm)

Closed July 14th and August 15th [...]


La Boutique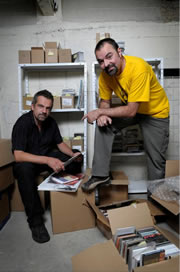 20-22 rue Gerbier
75011 Paris
M° Philippe Auguste
M° Voltaire

Restez informés !

Souffle Continu

Commentaires :


- Commentaire de : soufflecontinu (2010-09-16)
gustaf hildebrand - primordial
Gustaf's second full lenght is a unique, evolved experience offering you to embark upon an odyssey through ancient and lifeless surroundings. Sweeping ambient soundscapes and delicate textures mingle with the distant shrieks of surreal machinery - conjuring up images of abandoned and forgotten places, clouded skies and dead cities where time has been standing still. A captured moment from a strange no man's land lit by a perpetual gloom, Primordial Resonance is a voyage only limited by the imagination of the listener. First 1000 copies come in an oversized fold out cover (A5).
Sur le même Label

Genre similaire