La Boutique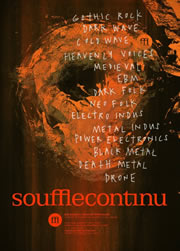 20-22 rue Gerbier
75011 Paris
M° Philippe Auguste
M° Voltaire

Restez informés !

Souffle Continu

Steven Stapleton - Tony Wakeford

Revenge Of The Selfish Shellfish (special Edition)


Actuellement indisponible

Label : Robot
Support : 2 CD

Indus/Power Electronics
Dark folk/Neo folk



Initialement publié en 1992 par Tursa, 'Revenge of the Selfish Shellfish' est la première collaboration musicale de Steven Stapleton (Nurse With Wound) et Tony Wakeford ( Sol Invictus). Vous avez ici une jolie réédition remasterisée par Matt Waldron + des inédits enregistrés durant les mêmes sessions + des remixes d'Andrew Liles, Tony Wakeford, irr.app.(ext.) et Brian Conniffe. Une musique électroacoustique aux ambiences plus ou moins sombres marquée par la littérature fantastique et l'ésotérisme du XIXème siécle européen ainsi que par le surréalisme français. Narratif, naïf, copieux et délirant. Objet soigné.

Commentaires :

Sur le même Label

Genre similaire