Evènements
Vendredi 16 octobre 2020 - 19h30
Jazz & Musiques Libres à Berthelot #4
Sylvain KASSAP + Benjamin DUBOC DUO.

ENTRE LES TERRES - CORNELOUP/MOLARD QUARTET

Jacky MOLARD - François CORNELOUP - Catherine DELAUNAY – Vincent COURTOIS.

PAUL WACRENIER HEALING UNIT invite MICHEL EDELIN

Paul WACRENIER - Xavier BORNENS - Arnaud SACASE - Blaise CHEVALIER - Benoist RAFFIN + invité Michel EDELIN.

Théâtre Municipal Berthelot Jean-Guerrin
06, Rue Marcelin Berthelot - 93100 Montreuil
Métro : Croix de Chavaux
Tel : 01 71 89 26 70 - resa.berthelot@montreuil [...]


La Boutique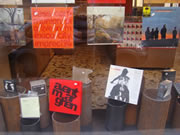 20-22 rue Gerbier
75011 Paris
M° Philippe Auguste
M° Voltaire

Restez informés !

Souffle Continu

Commentaires :


- Commentaire de : soufflecontinu (2010-12-24)
the human quena ochestra - the
HUMAN QUENA ORCHESTRA first took shape as a solo project from RYAN UNKS, who had previously played guitar in CREATION IS CRUCIFIXION. The Politics of the Irredeemable incorporates elements of black metal, crushing drone music, extreme psychotropic noise and psych/krautrock influences into a sound much heavier than his previous work. Six tracks of nightmarish, punishing doombience and earthshaking riff tectonics.
Sur le même Label

Genre similaire