La Boutique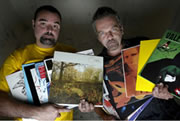 20-22 rue Gerbier
75011 Paris
M° Philippe Auguste
M° Voltaire

Restez informés !

Souffle Continu

Commentaires :


- Commentaire de : (2010-09-15)
imaginary forces - filth colum
London's Anthoney Hart, aka Imaginary Forces, sees his full length debut with a project designed to truly tear about boundaries and deconstruct drum n bass to its most nightmarish form. Combining drone guitar, the epic sludge bass (with guest Submerged), and spastic, scatterfire beat patterns, "Filth Columnist" puts any modern "dark" drum n bass far to shame. An innovative approach and an album that will be for many a challenging listen, but its rewards are bountiful.
Sur le même Label

Genre similaire