La Boutique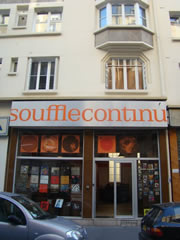 20-22 rue Gerbier
75011 Paris
M° Philippe Auguste
M° Voltaire

Restez informés !

Souffle Continu

Commentaires :


- Commentaire de : soufflecontinu (2010-09-15)
the blood of heroes - s/t
The Blood of Heroes is a collaboration project featuring Justin Broadrick (Godflesh, Jesu, Napalm Death) and Bill Laswell, with beats from Submerged and End.user and vocals from Dr. Israel. Post apocalyptic soundscapes and de-imaged electronic beats backed up with heavy guitar and bass. Features live drumming from KJ Sawka and Balazs Pandi, and sound design from film sound architect M. Gregor Filip. Powerful anthemic tracks collide with vicious drum n bass beatdowns and intersperse with breathtaking synth beauty and Aphex Twin style mezzed beats. The soundtrack to post-solarflare humanity!
Sur le même Label

Genre similaire