Evènements
RE-OUVERTURE DE LA BOUTIQUE
SOUFFLE CONTINU (11:00 - 19:00)
Tout d'abord, nous vous espérons en bonne santé, préservés autant que possible de ce maudit virus qui a modifié et parfois bouleversé la vie de chacun d'entre nous.

Merci à vous tous pour votre soutien, vos commandes et vos messages, cela nous a permis de traverser le tunnel avec un peu de lumière.

Nous nous réjouissons de cette ré-ouverture et nous souhaitons vous envoyer un maximum d'ondes positives pour l'accompagner.

Nous avons fait le nécessaire pour que la ré-ouverture se passe en respectant les règles sani [...]


La Boutique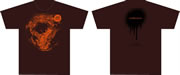 20-22 rue Gerbier
75011 Paris
M° Philippe Auguste
M° Voltaire

Restez informés !

Souffle Continu

Commentaires :


- Commentaire de : soufflecontinu (2010-12-24)
ehnahre - taming the cannibals
Taming the Cannibals, the sophomore full-length from avant-black / death / doom band Ehnahre, is one of the more cerebral and challenging death metal albums to come through the Crucial Blast headquarters this year. Featuring former members of prog / gothic art-rockers Kayo Dot and avant-death metalists Biolich, the Boston-based group unleashes extreme chaotic dissonance and pitch-black chthonic textures--a combination of atonal 20th-century classical music and vicious blackened death laced with stretches of intense choral ambience and blasts of calcifying, glacial doom. Ehnahre creates some of the most difficult death metal out there, but balances the relentlessly unpredictable arrangements with seething aggression and crushing riffage. Taming the Cannibals continues the discordant black art first witnessed on their 2008 debut album The Man Closing Up. Once again, Ehnahre employs horns and strings, this time performed by guest musicians Greg Kelly (Heathen Shame) on trumpet and C Spencer Yeh (Burning Star Core) on violin, draping sheets of high-end violin skree and free jazz across ethereal blastscapes and apocalyptic feedback. Six lengthy tracks of demented and distended death metal and harrowing atonality pull the listener ever deeper into claustrophobic depths, crafting a terrifying, hellish vision that makes the skin crawl and sets nerves on edge.
Sur le même Label

Genre similaire