Evènements
Vendredi 16 octobre 2020 - 19h30
Jazz & Musiques Libres à Berthelot #4
Sylvain KASSAP + Benjamin DUBOC DUO.

ENTRE LES TERRES - CORNELOUP/MOLARD QUARTET

Jacky MOLARD - François CORNELOUP - Catherine DELAUNAY – Vincent COURTOIS.

PAUL WACRENIER HEALING UNIT invite MICHEL EDELIN

Paul WACRENIER - Xavier BORNENS - Arnaud SACASE - Blaise CHEVALIER - Benoist RAFFIN + invité Michel EDELIN.

Théâtre Municipal Berthelot Jean-Guerrin
06, Rue Marcelin Berthelot - 93100 Montreuil
Métro : Croix de Chavaux
Tel : 01 71 89 26 70 - resa.berthelot@montreuil [...]


La Boutique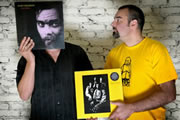 20-22 rue Gerbier
75011 Paris
M° Philippe Auguste
M° Voltaire

Restez informés !

Souffle Continu

Commentaires :


- Commentaire de : soufflecontinu (2010-09-15)
herbie hancock - blow up ost
"In late 1966, Herbie Hancock with Freddie Hubbard, Joe Henderson, Ron Carter and Jack DeJohnette entered a New York studio to capture the vibe of 'swinging London' in a jazz mode -- with grooves that create effective bluesy moods on the slow pieces and funky ones on the up-tempo tracks. Meanwhile in London, the Yardbirds (with Jeff Beck and Jimmy Page) were recording additional material for use in the Blow-Up movie soundtrack. Liner notes by maverick journalist Steve Dollar. Superb audiophile remastering." 180 gram HQ vinyl. Gatefold sleeve.
Sur le même Label

Genre similaire