Evènements
Réouverture de la boutique!
SOUFFLE CONTINU est à nouveau ouvert au public du lundi au samedi de 11h à 18h.

Le "Click & Collect" s'inscrit dans la durée et reste opérationnel.
Pour cela, faites vous plaisir ici et sélectionnez "retrait sur place" au moment de la validation / checkout.

Les retraits des commandes sont ensuite possible à n'importe quel moment aux horaires d'ouverture de la boutique.

Merci à tous pour votre soutien indéfectible et surtout prenez bien soin de vous en attendant les jours meilleurs ! [...]


La Boutique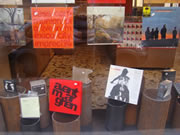 20-22 rue Gerbier
75011 Paris
M° Philippe Auguste
M° Voltaire

Restez informés !

Souffle Continu

Commentaires :


- Commentaire de : soufflecontinu (2010-09-16)
arcana - the first era 1996-20
Very few bands evoke such awe and inspiration than this Swedish act driven by the now legendary talent of Peter Bjärgö. ARCANA have been pillars and always at the forefront of the so called Neo Classical / Heavenly Voices movement with their poignant, ethereal and medieval inspired music since their very first album, Dark Age Of Reason was released in 1996 on Sweden's Cold Meat Industry label on which they subsequently released 3 other albums, Cantar De Procella (1997) ...The Last Embrace (2000) and Inner Pale Sun (2002) making ARCANA one of the most regarded and praised act on the label. Sorrowful strings, Doomsday horns and trumpets, massive percussion and snares, bells, Dulcimer all interlaced with exquisite Male and Female voices create a quite singular atmosphere of grandeur and of melancholy for times long gone... ARCANA's music leaves hardly no one indifferent, it's able to touch and move in ways very few acts have been able to achieve, it's music is timeless and rediscovering these albums years later certainly proves this...now sold out for some years we are pleased to present these classic albums together in a special format. This 4CD box set includes the first 4 albums with bonus tracks taken from various compilations and mini albums covering the early days of this unique act. The first 3 albums have also been carefully ReMastered, "Dark Age Of Reason" by Peter Bjärgö and the "Cantar De Procella" and "...The Last Embrace" albums by Frederic Arbour. 4 CDs housed in separate sleeves, 40 pages Booklet relating Arcana's early days all packaged in a rigid cardboard box. Limited edition of 2000 copies.
Sur le même Label

Genre similaire